What is competitive intelligence (CI) ?
SCIP defined it as "a systematic and ethical program for gathering, analyzing, and managing external information that can affect you". For FLA Consultants the CI is a strategic tool that enables company to improve its competitiveness by identifying new opportunities, anticipate risks and future market evolution. It is also a support function for strategic decision-making process, converting the right information into intelligence and the intelligence into key decision-making factor.
The CI is a process by which the raw information is collected, evaluated, analyzed and converted into intelligence for decision-makers to support company strategy.
This process includes the following elements: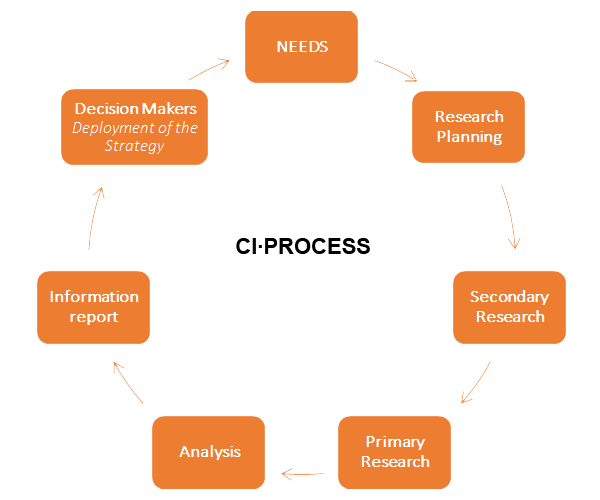 Our Investigation approach consists of these core values
We follow a structured approach to problem solving, working closely with our clients to understand their issues, and also the solutions that they are looking for.
We start with secondary research in order to explore all data that already exists and that may be of value. We have access to the most comprehensive range of information resources. This includes the entire spectrum of news, legal, market and business information.
An emphasis on primary research in order to validate secondary research findings. We consider that human intelligence is at the core of CI process. Highly confidential interviews with individuals targeted for their knowledge/experience about a specific topic and professional network are conducted.
In our analysis process, we focus on the highest level of quality control and validation of research findings.
Any question ?