Russian market has seen in recent years a very dynamic development of French companies. Russia has become the world's biggest market for Danone and Renault. The success stories of Auchan, Leroy Merlin, Sanofi, Total are also excellent examples.
In total, 1 200 French companies are established in Russia and 5 000 SMEs export to Russia.
Click on the map to view the French settlement in Russia and the development of Russian régions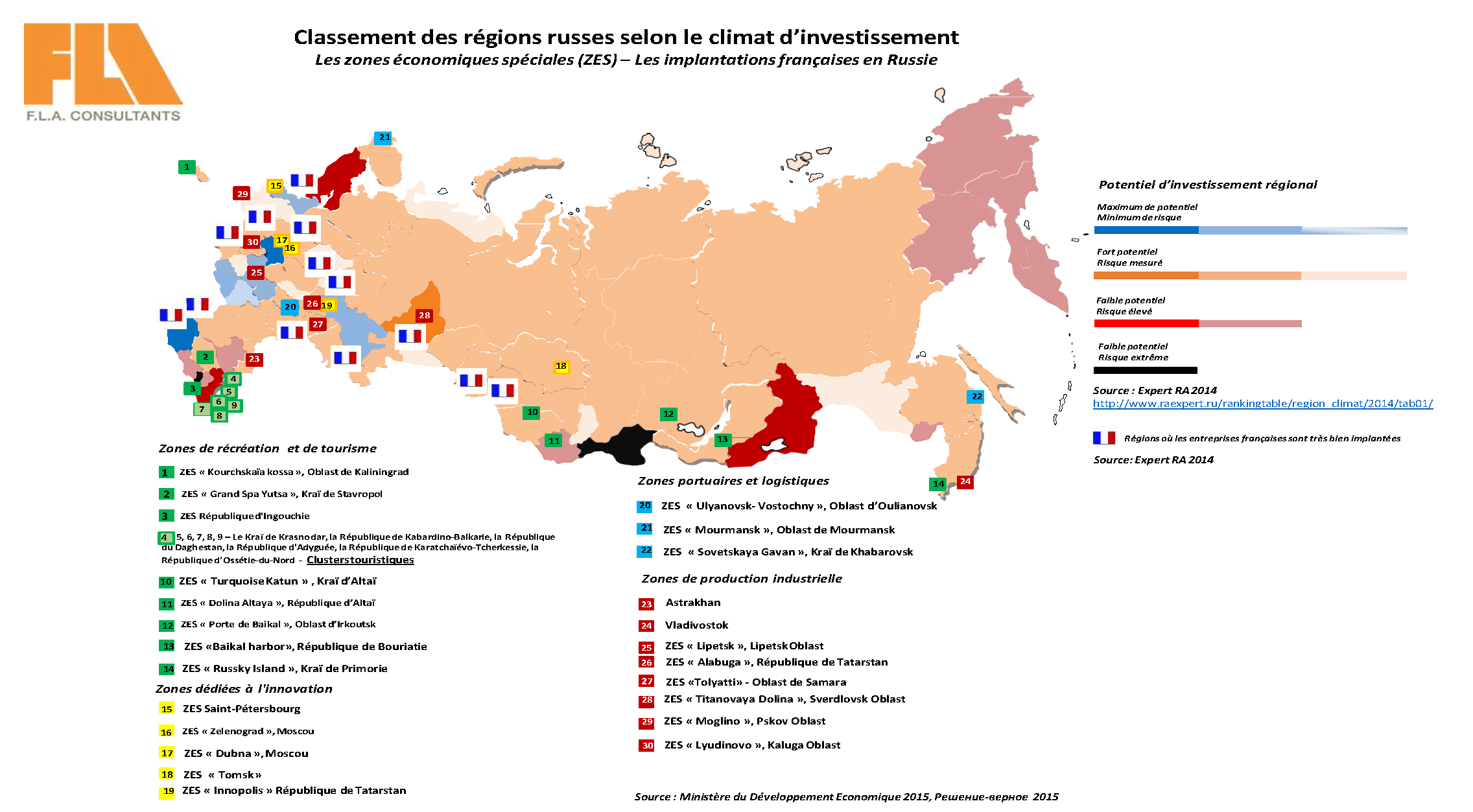 FLA Consultants offers a real decision support tool for your business development in Russian market
assess the potential market for your products and services,
precisely identify the barriers to a country's entry,
develop a strategy of export and establishment in the market,
control your development and your risks in real time.
Our services are designed for the success of your projects
Competitive Intelligence
competitive, marketing and technology monitoring
support for business development,
market research,
regulatory watch,
research of experts,
research and verification of partners in different sectors (transport, pharmaceuticals, retail, heavy industry...)
human networks mapping and analysis of decision-making process of Russian leadership.
Risk management
detection and anticipation of risks (country, partners, markets)
online reputation: watch on image and risk management related to your company,
information services related to the carrying out of due diligence.
More globally FLA Consultants covers
CIS: MOLDOVA, UKRAINE, KAZAKHSTAN
EASTERN EUROPE: ROMANIA, POLAND, CZECH REPUBLIC, SLOVAKIA, SERBIA...
Our added-value
a perfect knowledge of Russian language and other countries' languages in the region,
a deep understanding of current business and industry issues
an extensive professional network in these countries with recognized partners
a solid field experience,
a wide range of information sources.
We maintain a constant dialogue with you for a quality service and we assure you complete confidentiality.
Did you know?
The French exports to Russia have quadrupled in nearly 15 years: 7.68 billion euros in 2013. France is the third country in Europe behind Germany and Italy in terms of commercial partnership with Russia.
French firms are set up mainly in Moscow and St.Petersburg, but the dynamism of Russian market as a whole encourages these businesses to expand in regions (in particular, in 10 big cities with more than one million population: Novosibirsk, Yekaterinburg, Nizhny Novgorod, Samara, Omsk, Kazan, Chelyabinsk, Rostov-on-Don, Ufa and Volgograd). It is important to note the strong development of Kaluga region near Moscow which has welcomed many of French firms in recent years.
The key development sectors are: health, pharmacy, rail, transport equipment, car industry, mechanical subcontracting, construction, food industry, consumer goods.
Any question ?